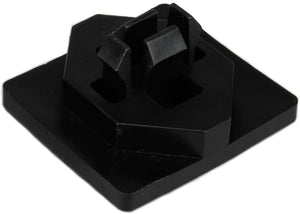 Fits All 97 through 19 Corvettes EXCEPT the C6 GS ZO6 or ZR1.

This Listing Includes One Pad.

Made of Strong ABS Plastic for a Lifetime of Use.

Square "Snap In" Pad Allows the Jack Pad to remain Installed always Ready.

This Listing is for One Square "Snap In" Pad. See our other Listings for our Four Pad Kit.
This pad will NOT fit the C6 2006 through 2013 Grand Sport ZO6 or ZR1 they will fit the C6 2005 through 2013 Base Coupe and Convertible
This square "Snap In" jacking pads allows you to install and forget it and the next time you need to lift your Corvette it will be in place and ready.
Please Note: This pad can not be used on the C6 GS ZO6 and ZR1 as the frame design is slightly different for the lift slots then the base coupe and convertible.
Made of strong ABS plastic that will last a lifetime. Most will want to just leave it in but to remove it is as simple as using a small screwdriver and popping it off. Made with a low height design.
This listing is for one Square "Snap In" jacking pad. See our other listings for our special priced 4 set kit.
Why risk damage to your Corvette when the proper pad will allow you to safely and properly raise and lower your Corvette.